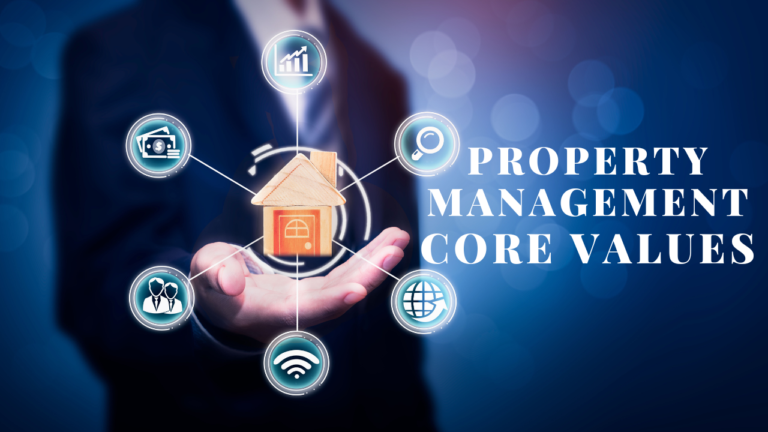 15 Core Values to Look For in The Professional Property Management Company
Looking for a property management company to manage your rental property? We've got you covered. Check out our list of 15 core values to prioritize when selecting a company. From effective communication to advanced technology, these values ensure that your investment is in good hands. Read on to learn more.
A wonderful approach to creating passive income and long-term wealth is to invest in real estate. Yet owning a rental property also demands a considerable commitment of time, energy, and money. Professional property management companies can help in this situation. These businesses focus on managing rental properties for property owners, ensuring that the homes are kept up well, the renters are content, and the owners may take pleasure in a stress-free investing experience.
But not every property management company is made equal. When choosing a property management company, it's critical to give some key principles top priority in order to make sure that your property is in good hands. These fundamental principles can include everything from clear communication and meticulous attention to detail to moral behavior and cutting-edge technology. Property owners can make sure that their investment is well-protected, their renters are happy, and that their investing experience is as stress-free as possible by choosing a company that prioritizes these qualities. In order to make sure their investment is safe, property owners should search for a professional property management company that possesses the following core values.
Here Is The List of the Top 15 Core Values to Look For in The Professional Property Management Company:
Details Of the Core Values That Each Professional Property Management Company Should Possess:
1. Communication
A successful partnership between a property management firm and its clients depends on effective communication. The top businesses have effective channels for client contact, regularly inform their clients, and reply to queries right away.
2. Attention to Detail
Whether it's keeping an eye on finances, organizing maintenance, or selecting renters, property management demands attention to detail. A business that pays close attention to detail is more likely to identify potential concerns before they develop into problems.
3. Proactive Approach
The top property management firms have a proactive strategy, foreseeing issues before they arise and trying to minimize them. Regular property inspections, preventative care, and an emphasis on tenant retention might all fall under this category.
4. Ethical Conduct
A business can be trusted if it places a high priority on ethical behavior. This involves charging fairly and openly, abiding by the law, and pledging to be sincere and ethical in all interactions.
5. Expert Knowledge
A property management business with an in-depth understanding of the sector can offer clients priceless counsel and direction. This entails keeping abreast of industry developments, statutory obligations, and industry standards.
6. Personalised Solutions
A great property management business understands that every property is different. Instead of taking a one-size-fits-all strategy, they offer specialized solutions that are tailored to the unique requirements and objectives of each client.
Check out this article regarding the credit score needed to buy a house
7. Budget-Friendly Solutions
While managing a property can be expensive, consumers can ultimately save money by working with a company that provides economical solutions. This can involve settling contracts with suppliers, reducing empty spaces, and increasing rent collection.
8. A Proven Track Record
Clients can trust a property management business that has a successful track record. Choose businesses that have a history of getting good evaluations, enduring client relationships, and a solid standing in the sector.
9. Customer Satisfaction
The top property management businesses put a high priority on client happiness and go above and beyond to satisfy them. This entails delivering consistently high-quality solutions, rapidly resolving issues, and offering great customer service.
10. Continuous Improvement
The top businesses understand the value of ongoing development as the property management sector undergoes rapid change. They keep abreast of market developments, make training investments in their workforce, and adopt cutting-edge techniques.
11. Strong Vendor Relationships
Dealing with reputable vendors is crucial for a property management firm to be successful. The finest businesses have solid connections with suppliers who share their dedication to dependability and quality. Before engaging with a vendor, they thoroughly investigate them to make sure they live up to their high requirements.
12. Advanced Technology
Real-time information and insights can be given to clients while streamlining property management services. The greatest businesses use market-leading software to effectively manage properties, keep track of maintenance requests, and monitor finances.
13. Rigorous Tenant Screening
Thorough tenant screening is necessary to safeguard clients' investments. The top property management businesses employ a thorough screening procedure to assess prospective tenants, which may include credit checks, rental history, and background checks. This ensures that they select tenants who are reliable, responsible, and financially stable.
Check this article regarding the Tips On raising a Credit Score Without A Credit Card
14. Timely Rent Collection
The financial security of clients depends on timely rent collection. Rent collection is a top priority for the best property management businesses, which use cutting-edge tools and software to monitor payments and keep track of past-due accounts.
15. 24-Hour Emergency Assistance
Because emergencies can occur at any time, top property management companies offer their clients round-the-clock emergency assistance. Whether it's a busted pipe or a power outage, their crew is always on hand to respond to crises quickly and effectively. This guarantees that tenants are safe and secure and that clients' properties are always well-protected.
Key Takeaways
Therefore, it's critical to give top priority to key values that correspond to your demands and goals when choosing a property management business. You can choose a business with confidence if it values clear communication, meticulous attention to detail, moral behavior, and cutting-edge technology. Also, choosing a business with a track record of success, solid vendor relationships, and a dedication to continual growth will provide you confidence in your investment and peace of mind. Finally, a business that places a high value on client happiness and offers round-the-clock emergency assistance can give you the degree of service and support you require to succeed.